Around the Minors: The week of Aug. 15-21
Sights and sounds from action across Minor League Baseball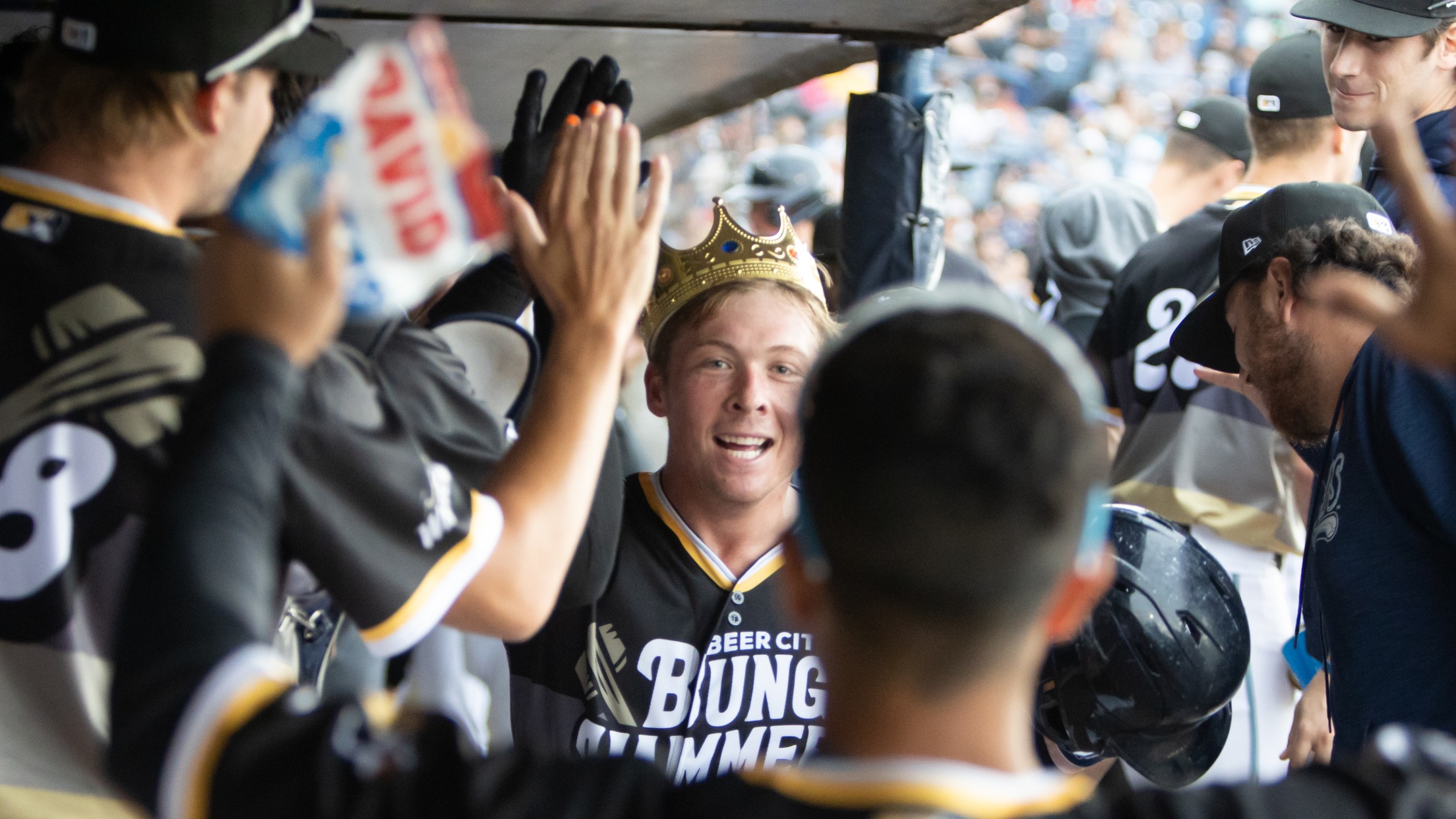 West Michigan's Jake Holton rocks a crown in the dugout on Bung Hammers night. (Emily Jones/MiLB.com)
Aug. 21
Singles need not apply
It was extra trouble when Edgar Quero was at the plate.
The No. 3 Angels prospect showcased his ability to produce as he went 3-for-3 with three extra-base hits in Single-A Inland Empire's 5-0 win over San Jose.
The 19-year-old reached base safely in his five plate appearances, including two walks. Quero was a single shy of the cycle as he hit an RBI double in the fifth, an RBI triple in the first and a solo homer to left field in the third inning.
The catcher's productive day improved his slash line to .315/.430/.536 this season.
Painting the corners
It might be reasonable to question how a 19-year-old pitcher, of any pedigree, would fare at the Double-A level, but Andrew Painter is cut from a different cloth. Though instead of wiping away watercolors, this one is mopping up opposing batters.
Painter, the Phillies' top-ranked prospect and No. 25 in baseball, proved his status at a third rung of the Minor League ladder this season alone, tossing six shutout innings with eight strikeouts in his Reading Fightin' Phils debut.
"I was really excited just to get my feet wet, experience Double-A and put my stuff to the test here," Painter said after the 8-0 win over Portland. "I wanted to really accept the challenge and it went well."
Outside of three softly hit singles and a hit batsman, Painter's stuff was untouchable. He consistently pumped his fastball into the upper 90s and spun his slider and curveball for called strikes and whiffs, only mixing in "about five or six" changeups because the primary offerings were too dominant.
"The goal was to establish the heater early," Painter said. "It was mostly fastball-slider at the beginning and then we ventured off … It was a lefty-heavy lineup so we started spinning some breakers, then had the changeup working a little bit to get them off the heater." Full story »
What an Eguy!
Eguy Rosario's historic season has reached a significant milestone.
The Padres' No. 6 prospect crushed his 20th long ball of the season, which makes him the first player to hit the 20 homers/20 stolen base milestone in Triple-A El Paso's history. Rosario accomplished the feat in El Paso's 2-1 win over Round Rock.
The 22-year-old did not wait long to accomplish the feat as he crushed a solo homer to left field in his first at-bat. He became the first player to not only hit the 20/20 mark, but also the first player to have at least 20 long balls, steals and doubles.
The second baseman not only reached the milestone, he brought his run tally to 89 and RBIs tally to 74 on the season.
With his 1st Inning HR Eguy Rosario has made TEAM HISTORY

He is the first Chihuahuas player to record a 20/20 season (HR/SB) AND the first to ever have at least 20 home runs, steals AND doubles!#FearTheEars | #TimeToShine pic.twitter.com/wFXXO2mXLH

— El Paso Chihuahuas (@epchihuahuas) August 21, 2022
Singing like a Canario
When Alexander Canario hits the ball, it tends to not stay in the park.
The No. 9 Cubs prospect has showcased his power all season long as he logged his fourth multihomer game, smoking two homers in Double-A Tennessee's 13-5 win over Birmingham.
The 22-year-old's power display started early as he hit a two-run shot to left-center field in the first inning. Canario was not finished there as he hit his second two-run long ball of the day to left-center field in the fifth inning.
The outfielder's power display brought his homer tally to 31 and improved his slash line to .256/.336/.559 between High-A South Bend and Double-A this season.
Double digits with authority
Luis Matos had a grand day at the plate.
The No. 3 Giants prospect had nine long balls this season, but none with the bases loaded. Matos belted his first grand slam of the season en route to plating five runs in High-A Eugene's 8-3 win over Hillsboro.
The 20-year-old started off by popping out to third followed by a pair of flyouts, including a sacrifice fly, in his first three at-bats. Matos made sure the ball went out in his fourth plate appearance as he crushed his grand slam to left field in the seventh inning.
The outfielder's power display brought his homer tally to 10 and improved his slash line to .200/.269/.346 this season.
All shook up
Orelvis Martinez has been hitting homers at a prodigious pace all season. Now, it's led him to the record books.
Baseball's No. 73 overall prospect crushed his 28th home run of the year to set a new single-season mark for Double-A New Hampshire in a 6-1 win at Hartford.
Martinez's record-setting home run came in a key moment as the Fisher Cats broke open a scoreless game in the sixth inning. After Luis De Los Santos hit an RBI double to get New Hampshire on the board, Martinez brought him home on a two-run smash to left field.
The dinger was Martinez's only hit of the day but continued a powerful stretch for the infielder. Though he has just seven hits over his last 12 games, six of those have gone for extra bases with four leaving the yard. Martinez clubbed two homers on Aug. 16 to pull even with New Hampshire's previous franchise-high mark of 27, set by Chip Cannon in 2006 and matched by Eric Thames four years later. Full story »
Aug 20
Trejo en fuego
The month of August has been kind to Alan Trejo, but he's turned things up multiple notches this week.
The Rockies infielder, who has bounced between the Majors and Triple-A dating back to last year, has been right at home with the Isotopes. His latest feat was a two-homer game against Tacoma, making it two straight nights with a multihomer effort and three consecutive games in which he left the yard.
Trejo's first dinger on Saturday broke a scoreless tie in the fifth inning. Then in the eighth, with his team ahead 2-1 and the bases loaded, he lifted a grand slam over the fence in right-center to put the game away. Overall in August, Trejo is hitting .411 with a 1.300 OPS and seven home runs in 14 games.
Driven to cycle
The High-A Greenville Drive, a franchise that has served as a Red Sox affiliate since 2005, entered the 2022 season without a cycle in its record books. As the year nears its final weeks, the team will now be able to add not one, but two entries.
Red Sox outfield prospect Tyler McDonough became the latest to accomplish the feat, notching a home run, single, double and triple -- in that order -- in Greenville's 10-3 win over Bowling Green on Saturday.
"It felt awesome, that's really the only word to describe it," McDonough told MiLB.com. "Especially with how I've been doing, struggling a little bit, but I just keep going day to day and getting better. This is all a process."
Lifting the Tides
The headline about the beginning of Gunnar Henderson's night centered around his starting defensive position. By the end of it, he'd once more made it about his bat. Baseball's No. 2 overall prospect roped a walk-off single in the bottom of the 10th to add to a homer and double -- all while getting his first professional start at second base -- as Triple-A Norfolk edged visiting Durham, 8-7.
"I was notified this morning that I was going to come in and do a little bit of early work at second base," Henderson told MLB.com. "They told me I'd play there today and tomorrow possibly. Just went in there and got some good work in, and I felt pretty comfortable."
If anyone was concerned that a position change would affect the versatile defender at the plate, Henderson allayed those worries quickly. The top Orioles prospect ripped a two-run double to right in the bottom of the second inning and clobbered his 19th homer of the season -- and 11th at Triple-A -- to right in the fourth.
MiLB venue, potential changes on MLB Network
The game between Triple-A Charlotte and Syracuse was an opportunity to show a wider audience some of the results of that process, with three experiments -- the automated ball-strike (ABS) challenge system, the pitch timer and bigger bases.
The Knights and Mets combined for five challenges, only one of which was overturned. This was an extreme example of a wider trend in which umpire calls in Single-A and Triple-A games using the challenge system this year have been upheld roughly 55% of the time.
"What I've liked most is that the players understand that they have to understand the umpire's strike zone," Knights manager Julio Mosquera told MLB.com. "You see a lot of players could get selfish [with the challenges], but we have spoken as a team and our players are pretty aware of when to use them and when not to use them, and it's been working out pretty good for us." Full story »
This is what it looks like when a hurler challenges a pitch call: pic.twitter.com/usqVSXLykC

— Minor League Baseball (@MiLB) August 21, 2022
Aug. 19
They scored how many runs??
The bottom of the sixth inning between Triple-A Oklahoma City and Sugar Land started like many innings do: with a leadoff single. The Dodgers were coming off a 4-1 win during the first game of their doubleheader Friday with the Space Cowboys, and they were just an inning-and-a-half away from potentially heading into the weekend with a pair of wins.
Instead, that leadoff single would be just the beginning of, perhaps, the wildest half-inning those in attendance had ever seen. The Space Cowboys would go on to get nine more hits (10 total), nine walks and a hit-by-pitch, plating a team-record 17 runs in an unbelievable offensive explosion that led to a 21-4 win.
Sugar Land sent 23 batters to the plate. Oklahoma City cycled through four different pitchers in the inning -- veteran relief pitcher Pedro Baéz started the inning. The Space Cowboys eventually set a franchise record with 21-4 win. Full story »
Cuca-humongous power display
If there were an offensive performance worthy of a curtain call, Yunior Garcia certainly cleared the bar during Rancho Cucamonga's 12-8 victory over Modesto on Friday.
Five hits, three of which were home runs. Six RBIs. Four runs scored. Garcia delivered the textbook definition of what a manager envisions when he pencils a name into the cleanup spot.
"I had never seen a Minor League curtain call before," hitting coach O'Koyea Dickson said. "[It was] a special night for him." Full story »
UNBELIEVABLE❗️ YUNIOR GARCIA CRUSHES HIS THIRD HOME RUN TONIGHT🔥

That makes 13 for this season😤

Quakes extend their lead over the Nuts 12-6❗️

Bot 8th pic.twitter.com/7Qo2IloONQ

— Rancho Cucamonga Quakes (@RCQuakes) August 20, 2022
Wind Surge of history
Daniel Gossett, unlike his Double-A teammates, is working his way back up to the top. And in the four years since throwing his most recent Major League pitch, the 29-year-old has come to learn that few things in the sport are guaranteed.
But for at least one night, Gossett could seemingly do anything he wanted on the mound. He may have even been floating as his teammates hoisted him off the ground after completing the first no-hitter in Wichita Wind Surge history on Friday.
"It's amazing," told MiLB.com. "It's the thing every pitcher dreams about."
On Holliday
No. 1 overall pick Jackson Holliday hit his first professional home run Friday in the Florida Complex League to lead his FCL Orioles to a 7-1 win over the FCL Pirates in the first game of a doubleheader in Bradenton.
The homer -- a solo shot -- came in the final frame when the left-handed slugger drove a pitch from right-handed reliever Miguel Diaz out to right. Starting at shortstop and batting out of the second spot in the O's lineup, Holliday finished 2-for-3 with a double, a walk and two runs scored, on top of the dinger.
It's been a hot start to pro ball for the 18-year-old son of Matt Holliday. The Oklahoma native has picked up hits in each of his first five FCL games, going 6-for-15 (.400) with five walks and only one strikeout in that span. Friday's fifth-inning double marked his first career extra-base hit, only for him to add another two frames later. Full story »
Jackson Holliday's first pro homer!

📽️: @FLProspectPod

pic.twitter.com/CAsrNvzQ3w

— MLB Pipeline (@MLBPipeline) August 19, 2022
Cleared for takeoff
Zach Daniels has continued to ascend the ladder in the Astros' farm system since being drafted in the fourth round of the 2020 MLB Draft. The current stretch that he's on has proven why he may continue to be a fast riser.
The Astros' No. 30 prospect has been on a tear as of late, as he has produced seven multihit outings in August. Daniels topped those performances with what could be considered his best game as a pro, going 4-for-5 with two homers and six RBIs in High-A Asheville's 14-7 win over Aberdeen.
The 23-year-old started producing from his first at-bat, an RBI single. After striking out in his next at-bat, he showcased his power, as he hit a two-run long ball to left field in the fifth inning and a three-run homer to right field in the sixth.
Daniels topped his night off with a single in what was a 20-hit effort for the Tourists. Asheville scored 14 runs off of that production, with every member of the starting nine getting a hit, with all but two players having multihit efforts.
Aug. 18
Why run when you can Walker?
Competing at a level where he's more than four years younger than the average player, Jordan Walker isn't just holding his own, he's putting his name into the conversation for the next big thing to hit the Midwest, if not all of baseball.
Baseball's No. 6 overall prospect homered twice for the fourth time this season and drove in three runs to help Double-A Springfield top visiting Arkansas, 5-4.
Walker's two long balls pushed his total to 15, eclipsing the 14 he slugged last season during his professional debut with Single-A Palm Beach and High-A Peoria. Just don't ask him to go too crazy about reaching the seats.
"I focus on trying not to get too big," Walker explained. "My teammates bust on me all the time for not hitting more home runs, but honestly, I'm fine with that. If I start focusing on hitting home runs, I'll get into trouble. Hitting the ball hard consistently and driving in runs is what my goal is each game. Full story »
The unhittable Mr. Englert
Though High-A Hickory fell two outs short of their third no-hitter of the season, Mason Englert is still in the midst of an unprecedented stretch of his own.
The Rangers prospect extended his hitless streak to 14 1/3 innings, scattering a walk and two hit batsmen across six scoreless frames as the Crawdads blanked Winston-Salem, 7-0, at L.P. Frans Stadium. He spun seven hitless innings in his previous start on Aug. 12 to help propel Hickory to its second no-no in a month and nearly did the same in his latest outing.
"As far as the hitless streak goes, a lot of it is kind of out of my control. A lot of it is luck," Englert said. "I made a physical change about five or six weeks ago and that's contributed a lot to what's been going on lately. I've done a lot better job observing my thoughts and not reacting to them and just accepting how I feel when I go out there, whether it's good or bad."
The chance for a perfect game was spoiled in the first frame when the 22-year-old issued a two-out walk, but he quickly rebounded and retired the next seven batters he faced. It wasn't an easy road for Englert, though, who had to deal with runners in the fourth and fifth via a fielding error and two hit-by-pitches. He was able to escape both jams cleanly before tossing a clean sixth to cap off his outing. Full story »
Englert has turned it up since the All-Star Break 🔥🔥 pic.twitter.com/b8vMkUs08v

— Hickory Crawdads (@HickoryCrawdads) August 19, 2022
Jordan the Jet
When a prospect boasts the stature that the D-backs' Jordan Lawlar does (MLB Pipeline's No. 13 overall), a considerable amount of pomp follows. But as the 20-year-old displayed in his latest outing, so does electric talent.
The third-ranked D-backs prospect got to work early in Hillsboro's 10-1 drubbing of Eugene. Lawlar, serving as the Hops' DH, slashed a single to right field in the bottom of the first inning, then he showcased another tool -- his wheels.
Playing in his 27th game at High-A, Lawlar logged his 11th steal when he swiped second, advancing to third on a throwing error. That's when the real show began.
After the second pitch of an at-bat by Emeralds starter Mason Black missed outside the strike zone, Lawlar timed up the return throw from catcher Andy Thomas and sprinted toward the plate. Black's attempt to thwart the sixth overall pick from the 2021 Draft went for naught, giving Lawlar the second steal of home in the Hops' 10-year history.
The feat was last accomplished for the Hops by Ricky Martinez on May 21, 2021. In total, Lawlar has amassed 36 stolen bases across 71 games between Hillsboro and Single-A Visalia. Including a brief stint in the Rookie-level Arizona Complex League, the shortstop has slashed .324/.418/.541 with 35 extra-base hits this season.
The dominant Double-A debut
It was a promotion that Nick Nastrini probably will find hard to forget.
The Dodgers' No. 12 prospect made his first Double-A app;earance in Tulsa's 7-3 win over Wichita. Ahead of his first outing with his new club, the fourth-round (131st overall) selection in the 2021 Draft made 21 appearances with High-A Great Lakes. He garnered a 5-3 record with a 3.86 ERA over 86 1/3 innings while ranking second in strikeouts (127) in the Midwest League.
His first performance with the Drillers was sensational. The 22-year-old tossed six no-hit innings before allowing his first hit in the seventh inning. He finished with 6 2/3 innings, allowing just one run on one hit and two walks while fanning eight batters.
In just his second professional season, the right-hander has an incredibly high ceiling if his performances mimic the way he started.
No-no squared
There were two no-hitters thrown in the Dominican Summer League today. They just so happened to be in the same game. Cubs Red defeated Pirates affiliate PIT Black, 2-0, in a seven-inning contest that featured zero hits for either side. Six pitchers combined on the feat: Juan Bello, Wilber Rodriguez and Yohan Crispin for the Cubs; Jonathan Salazar, Dioris Valdez and Hader Blanco for the Bucs.
Cubs Red's only two runs of the game each came in the bottom of the first inning and were on a pair of errors. Leadoff hitters Darlyn De Leon walked to open the frame and moved to second on another free pass by Joan Delgado two batters later. When De Leon and Delgado pulled off a double steal, a throwing error by catcher Richard Ramirez brought De Leon in from third. Two batters later, Delgado also scored on a throwing error by PIT Black shortstop Kelvin Diaz.
Despite the zero hits allowed the rest of the way, Pirates pitchers remained as wild as their fielders, issuing seven walks over six innings on their side of the no-hitter. They did fan nine batters along the way too.
By comparison, Cubs hurlers were much more in control, issuing only four free passes in their seven frames. The starter Bello -- an 18-year-old right-hander who signed with Chicago back in January -- completed four of those innings, striking out two and walking only one. Full story »
TWO no-hitters in one game??

Check out this stingy Dominican Summer League game between #Pirates and #Cubs prospects: https://t.co/spdjNvdx9S pic.twitter.com/bZJPlhmwjP

— Minor League Baseball (@MiLB) August 18, 2022
Aug. 17
History in the making
The High-A Lansing Lugnuts had never had a woman serve on their coaching staff before, let alone manage a game. Veronica Alvarez broke those barriers in one fell swoop.
Filling in for manager Phil Pohl while he's on vacation, Alvarez earned her first affiliated baseball managerial victory with the Athletics' High-A affiliate's 6-3 win over Great Lakes.
Alvarez has been a coach during Spring Training with Oakland since 2019, and she credits the relationships built over the course of the ensuing years for bringing her to this point.
"It does feel natural for me. It's a natural growth process. They give me all the opportunities to succeed," Alvarez said. "It feels really good to be a part of this organization and to have built those relationships and have those opportunities like this where I'm able to lead a team to a win." Full story »
One milestone, many feats
Go ahead and file this under, "Things you probably won't ever see again."
Brandon Dixon didn't just hit for the cycle for the second time in his career Wednesday. The Padres farmhand needed just five innings to complete the milestone while homering in his fourth straight game. He finished the evening with five knocks and a career-high nine RBIs to power Double-A San Antonio's 20-15 comeback victory over Northwest Arkansas at Arvest Ballpark.
To dig a little deeper into the magnitude of the performance, the home run Dixon belted was a grand slam. He also reached base in all seven of his plate appearances with a four-pitch walk in the third inning and a fielder's choice in the seventh. Oh, and he did this in just his fourth game back with the Missions after missing more than three months with an injury suffered on April 27.
"Things just kind of worked out, so it was a nice night for sure," Dixon said. "Just to get four hits is a nice night, but to do more than that and add on all those RBIs is always fun. But to be honest, I tried not to let any of that matter and just take care of business. For me right now, it's just about getting at-bats because I haven't played in a while. So it was nice to get seven plate appearances and to get my rhythm and everything going." Full story »
Announcing his presence with authority
When returning from Tommy John surgery, confidence can be a factor in how quickly a player can get back to feeling like himself. It's safe to assume that Jaden Hill gained some conviction in Fresno's 6-1 win over Visalia.
Colorado's No. 10 prospect made his first non-complex-level start since getting Tommy John surgery after tearing his UCL during his junior year at LSU. Although Hill was still recovering from his injury, the Rockies took a chance on the 6-foot-4, 234-pounder with the second-round (44th overall) selection in 2021.
In his first outing at Single-A, the 22-year-old proved that he still had juice in the tank. He tossed three scoreless innings, allowing just three hits and a hit batsman while fanning seven. The first seven outs the right-hander registered were all via strikeout.
Double the power
Top-ranked Blue Jays prospect Gabriel Moreno has climbed the Minor League ladder -- and earned a Major League callup earlier this year -- on the strength of, well, just that -- his power. But the feat he pulled off for Triple-A Buffalo likely can't be contained by the 20-80 scouting scale.
At the plate in the bottom of the ninth against Lehigh Valley, Moreno ripped a 2-0 pitch from Francisco Morales that surely was headed for extra bases off the wall in left field ... except the ball never bounced off the wall. Moreno's liner ended up lodged in the padding as Iron Pigs left fielder Chris Sharpe threw his hands up, a sentiment that was surely shared by many in the ballpark.
Moreno reached third base before the the umpire crew sent him back to second on a ground-rule double, the appropriate call in accordance with baseball rule 5.05(a)(7). Sharpe made one attempt to dislodge the ball from its perch but was unsuccessful.
The play, while quirky, occasionally happens at the Major League level. However, most of those occurrences involve a chain-link fence or a gap between panels of padding. Moreno's liner clearly had a mind of its own, disregarding what otherwise appears to be a normal segment of the Sahlen Field wall in left.
Grounding it into dust
Let's just say Ernie Clement is not a name earthworms and other dirt-loving creatures will speak fondly of. The play will go down as a "2-unassisted putout" in the scorebook, but his first at-bat groundout was anything but normal in Triple-A Columbus' 4-0 loss to Toledo.
Leading off the home second inning for the Clippers, Clement chopped a 1-2 offering into the ground right in front of home plate. Literally, into the ground. The ball took a direct dive into the dirt and didn't move. No bounce, no wiggle ... just a ball stuck in the proverbial mud. A magnetic force placed directly under the path of the ball could not have done a better job.
It took Toledo catcher Dustin Garneau a second to realize what had happened, but he immediately picked up the ball and tagged Clement for an unusual out. For his part, Clement, a 2017 Draft pick who has 264 Major League at-bats to his name, realized the ball was fair and made no attempt to run.
Possessing what appears to be a good sense of humor, the 26-year-old smiled and shook his head as he walked back to the dugout.
One of the rarest things you will ever see in baseball...

Yes folks, that was a fair ball. 😂#LetsGoHens | #DetroitRoots pic.twitter.com/8wAyKmNPeb

— Toledo Mud Hens (@MudHens) August 18, 2022
Specializing in strikeouts
Kyle Harrison is only improving since being promoted to Double-A.
MLB Pipeline's No. 22 prospect has begun to gain ground upon elevation to Richmond on May 24.
Before moving up a level, the third-round (85th overall) selection in the 2020 Draft garnered a 1.55 ERA, but was tagged with an 0-1 record after only allowing a run in two of his seven appearances.
The 21-year-old didn't have the smoothest transition, giving up two or more runs in his first two starts with the Flying Squirrels, but his most recent performance proves that he's adjusting well to his new environment.
In his 13th start at Double-A, the left-hander tossed six scoreless innings in the Flying Squirrels' 9-0 victory over Binghamton, allowing just two hits without a walk while fanning 10 batters, marking the sixth time in his young career that he's had double-digit strikeouts.
Legends of the fall
While the summer season is nearing its climax, some of baseball's top prospects are already getting their plans together for the autumn.
The Arizona Fall League has revealed its 2022 season schedule. The showcase circuit for baseball's top young talent will begin its 90-game campaign on Oct. 3 and conclude with the AFL Championship Game on Nov. 12.
Each fall, teams across Major League Baseball send seven of their best prospects to fill Fall League rosters. The AFL's six teams are each aligned with five MLB clubs. This year's assignments are:
Glendale Desert Dogs: Brewers, Dodgers, Reds, Twins, White Sox
Mesa Solar Sox: Athletics, Cubs, Marlins, Rays, Yankees
Peoria Javelinas: Guardians, Mariners, Mets, Nationals, Padres
Salt River Rafters: Blue Jays, Cardinals, Diamondbacks, Rockies, Tigers
Scottsdale Scorpions: Angels, Braves, Giants, Orioles, Red Sox
Surprise Saguaros: Astros, Phillies, Pirates, Rangers, Royals
Beginning on Oct. 3, the Arizona Fall League is back!

Here are the teams and schedule: https://t.co/W2GW0843sa pic.twitter.com/qcBVzill3M

— MLB Pipeline (@MLBPipeline) August 17, 2022
Aug. 16
Jung at heart
Six months ago, Josh Jung wasn't sure if he was going to be on a baseball field this season. MLB's No. 39 overall prospect suffered a torn labrum in his left shoulder during an offseason workout in February.
In his sixth game of the year with the Express, the top-ranked Rangers prospect appeared to be in midseason form as he mashed a pair of home runs as part of a three-knock night with six RBIs to power Triple-A Round Rock's 9-4 victory over El Paso at the Dell Diamond.
After a successful surgery to repair the tear in his shoulder in late February, Jung began a rehab assignment with the Arizona Complex League Rangers on July 28. After an eight-game rehab assignment at the Rookie-level where the 24-year-old posted a .240/.345/.600 with three dingers, three walks, five RBIs and four runs scored, Jung rejoined the Express on Aug. 9.
"I was just 100 percent itching to play baseball again at that point [in the ACL]," Jung said. "Going from the cages to game action feels good, but there was still a lot of inconsistency with how I was feeling then from one at-bat to the next. It's just all coming together right now which is great." Full story »
Good things come in pairs
Orelvis Martinez is fine-tuning his game at Double-A New Hampshire. But the Blue Jays' No. 3 prospect is already showing he can impact any game with his power.
Martinez proved that again, homering twice in the Fisher Cats' 5-1 win over Hartford. It marked the fourth multihomer game of the season for Martinez, who has hit .212 but with 27 home runs in the 20-year-old's first season at Double-A. Martinez also drove in four runs, his second 4-RBI performance in the last seven games.
While swing-and-miss issues mean Martinez might need some extra time to iron out his approach at Double-A, it's been a productive year overall for the precocious slugger. His 42 extra-base hits in 95 games are tied for fifth-most in the Eastern League, and lead all players in Toronto's system.
Applying for Saintshood
Before he was a 12-year big league veteran and a key member of the 2004 curse-breaking Red Sox, and long before he was an MLB Network star, Kevin Millar was an independent leaguer trying to keep his baseball dream alive.
Millar, 50, began his baseball journey with the St. Paul Saints, a team partly owned by comedian and noted baseball fan Bill Murray. Millar played for the Saints in their inaugural 1993 season and helped them win the Northern League championship, making enough of an impression that his contract was purchased by the expansion Florida Marlins that fall.
Nearly 30 years after he first put on the uniform, the Saints recognized Millar's connection to the club by retiring his No. 15 in a ceremony at CHS Field in St. Paul on Saturday, alongside the No. 5 of former Saints player and coach Wayne Terwilliger and the No. 22 of the George Tsamis, the all-time winningest Saints manager. Full story »
Thank you @StPaulSaints it was a huge honor 🇺🇸 pic.twitter.com/DyBcN6JX2B

— Kevin Millar (@KMillar15) August 15, 2022
Unflappable and unhittable
Akron's Gavin Williams has squared off with Erie three times since he was promoted to Double-A in June. His third outing was his best yet.
Baseball's No. 56 overall prospect Williams threw six hitless innings, striking out four without a walk, as his RubberDucks downed the host SeaWolves, 5-1.
Williams started his day on a roll, retiring the first 10 batters he faced, three via strikeouts. With one gone in the top of the fourth, Erie's Andrew Navigato reached on a fielding error. He was replaced at first base two batters later when Quincy Nieporte grounded into a fielder's choice that saw Navigato retired at second.
No other SeaWolves hitter found his way aboard. Full story »
Their prospects are good
It's been a busy time in the Minors, Majors and baseball as a whole. We have been through a talent-filled Draft and a blockbuster Trade Deadline for the ages and are headed toward a stretch run with 18 teams within six games of a postseason spot. All the while, players across the lower levels are sharpening their tools, breaking out and taking one step closer to their Major League stardom.
Amid the madness, let's check in on that latter group with an updated version of MLB Pipeline's Top 100 Prospects list.
Mets catcher Francisco Álvarez -- a 20-year-old with plus-plus power who has already reached Triple-A -- sits atop our ranking as the top prospect in the game. He's just the third catcher to hold the crown as baseball's No. 1 overall prospect, joining Joe Mauer (preseason 2004) and Adley Rutschman (midseason 2021). Full story »
Without further ado..

Here is the NEW Top 100 Prospects list!https://t.co/maP4sHAkgQ pic.twitter.com/l816J6ZnJw

— MLB Pipeline (@MLBPipeline) August 17, 2022
The week that was
Don't look now, but the Minor League season is entering the home stretch and there has been no shortage of excitement. Before the Reds and Cubs made their way through the cornfields of Iowa, High-A Cedar Rapids and Quad Cities got to experience their own slice of heaven. The clubs took center stage in the first MiLB Field of Dreams Game. There were a number of milestones during the week, including a cycle by Double-A Springfield's Matt Koperniak and another by Triple-A El Paso's Taylor Kohlwey. Springfield celebrated another historic feat when Chandler Redmond not only slugged four homers in one game, but he hit one of each for the home run trifecta during an 11-RBI performance. And what would a week of Minor League action be without no-hitters? High-A Hickory and Double-A Arkansas combined for their second no-nos of 2022 while Single-A Dunedin capped the week with its third no-hitter since the start of last season. Review all the action.